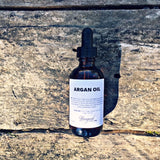 Moroccan Argan Oil 2 oz
Beeyond Honey's Virgin Organic Argan Oil, commonly referred to as Moroccan oil, is cold pressed from the kernels of the fruit that is produced by the Argan tree. Native in Morocco, Argan oil is a rare and valuable resource for treating a wide range of cosmetic and medical problems. It contains a high percentage of essential fatty acids and phelnols. It also contains vitamin A, omega 6 and omega 9 fatty acids which provide more antioxidant benefits and is rich in Vitamin e. Argan oil helps reduce dry skin and diminish the appearance of fine lines while restoring elasticity and a healthy glow. Health advantages of Argan oil are gaining in popularity because of the wide range of improvements that can help to treat many ailments such as dry skin, eczema, acne, wrinkles, and lots more. Argan oil is also used on skin, split ends, and nails for its beatifying action. It has hydrating and protecting action on the skin and so it can be used in facials and body massage, even for babies! Many women rub this oil over dry or cracked lips and neck. Argan oil is also shown to be helpful for improving hair strength.
Use: Put a few drops in your hands, rub hands together and pat onto your face, neck, hair, and everywhere! Store in a cool dark place.
Ingredients: 100% Morroccan Argan Oil* 
*organic