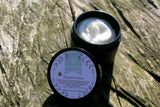 Geranium Eczema Cream 2 oz
An all-natural organic remedy that relieves itching & soothes dry, cracked, flakey, irritated skin. This is a chemical-free, nut-free way to heal, hydrate and protect your (child's) skin that you can feel good about.
Baby tested and as always, paraben, sulfate, GMO & gluten free
use: Use as needed on irritated areas of skin. Helpful for many skin problems like eczema as well as psoriasis, dermatitis, and skin irritation.
-hypoallergenic nut-free blend 
blend: *beeswax straight from the hive *bee propolis *unrefined mango butter *cold pressed unrefined coconut oil, sunflower oil infused with calendula *vegetable glycerin **lavender **geranium **melaleuca **helychrisum essential oils  
  *= organic ** = pure therapeutic grade                                                                          
 *always patch test an area of skin for sensitivity & allergy concerns.